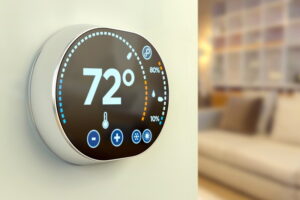 Upgrading an outdated thermostat to a smart thermostat or Wi-Fi thermostat may be one of the best investments you make in your home's HVAC system. Doing so can help improve the HVAC's overall performance which helps you enjoy a comfortable home with better energy bills management.
What's the Difference between a Wi-Fi and Smart Thermostat?
Both models are upgrades from traditional thermostats that function using a simple analog temperature gauge.
The best thing about a Wi-Fi thermostat is that it's able to eliminate user error. You can program your thermostat from anywhere from your phone, tablet, or computer. This means you can start heating or cooling your own before you even hit the door.
A smart thermostat has the same capability as a Wi-Fi thermostat. However, it has the added ability to "learn" how you like your home heated or cooled. That means that it can suggest eco-friendly settings that end up saving you money. In many ways, a smart thermostat is capable of helping to significantly improve the comfort level of your home while also working to reduce how much you're spending on heating and cooling by changing the temp manually.
How Your Thermostat Impacts Your HVAC System's Function
There are several advantages to upgrading to a smart thermostat. Those include:
Minimize your energy costs. These upgrades may help you save money because they run less when you are not home. They are easy enough to program, or they learn how you want your home heated and cooled throughout the day. Some systems promise to save between 10 and 15 percent of your heating costs and up to 23 percent of cooling costs.
Find out how much energy you're using. Another key benefit for those who want to reduce their carbon footprint is to use a smart thermostat to track how much energy they're using. Watching rising costs over time may also be an indication your HVAC system needs a tune-up to keep it efficient.
Remote control access is an option. Another nice feature of this type of thermostat is that you can tap into it on a smartphone app because the thermostat is connected to your home's Wi-Fi. As a result, you can adjust the temperature from a distance, helping you to warm up your home or cool it down before you arrive.
They are easy to program. Some people may think that, as a smart device, these systems are hard to program and manage. That's not the case. These systems are designed to be easy to use. Once you set them, they learn how to fit your needs. For example, some have movement detectors, so they know if someone is home or not and can adjust accordingly on their own.
Link to other smart devices. Some also are designed to link with other smart devices in your home to make it even easier for you to manage. For example, you may be able to link it to a smart humidifier or air purifier, which can be controlled through the thermostat. That makes managing your home effortless.
A new thermostat may be an excellent investment for you. Turn to a local professional to learn more about how they work and what type may be best for your needs.
Are you ready to learn more about maintaining your HVAC in Weatherford, TX? Then, contact Don's AC Service, Inc when you want quality HVAC service.