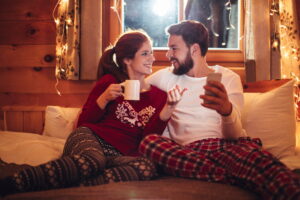 Heating your home is a priority in the wintertime. However, you want to heat your home safely so that you don't face any unnecessary risks. The good news is, heater safety is very easy to maintain. It starts with scheduling annual service for your furnace in Saginaw, TX.
Our team are the local experts and we would love to take a look at your heater, make any tweaks or repairs that are needed, and then talk to you about how to maximize your heater this winter season. You can keep reading to learn more about furnace safety and the steps you can take as a homeowner to keep your home and family safe this winter.
Maintain Space
One of the best things that you can do for your heater is maintaining space around the systems, both indoor and outdoor. The minimum recommendation is three feet of space around your actual heating unit itself and any vents and your home.
This prevents the heater from overheating and ensures proper airflow throughout your entire home. But you also want to make sure there is at least three feet of space around your outdoor unit, too. It's just as easy for your outdoor unit to get blocked-in and lead to heater problems.
Change the Filter
You need to change the filter on your heater every single month on time. Adequate airflow is crucial for heater operation. Without enough airflow, your heater takes on extra strain as it works against the problem. Plus, you may lack the comfort you expect in your home since there's no airflow to heat and transfer back into your home.
Changing the air filter is also important for your indoor air quality. A full filter doesn't just block airflow. It also allows some of those particles to escape through and get into your heating system, mixing in with clean air and blowing back out into your home. It can create a vicious cycle of a dusty home and elevated risk of getting sick.
Pay Attention to Operation
It is important for you as a homeowner to know how your heater works so you can identify when it is having problems. Unusual sounds, smells and changes in how your heater operates are red flags that something is wrong with the system. It is important to get these issues checked out soon.
Check Detectors
All homes should have smoke detectors. If you also have gas lines that serve your home, you should have carbon monoxide detectors. Both of these types of detectors play a crucial role in your home safety. When you're operating a heater in the winter, these detectors are increasingly important. Make sure that they are working ahead of the winter season.
Schedule Professional Service
Aside from homeowner maintenance tasks, one of the best things you can do for your heater is schedule professional maintenance with our team of expert technicians. We can take a look at your heater year after year and make tweaks here and there that keep your heater highly efficient. Without professional maintenance, wear and tear can build up and lead to long-term impacts that reduce efficiency and shorten your heater's potential lifespan.
Contact Don's AC Service, Inc today to schedule an appointment for your heating and indoor air quality needs!