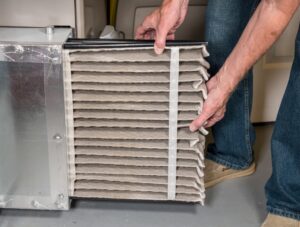 When it comes to your indoor air quality, you want to do everything you can to make improvements. Even though your HVAC system has an air filter, there's only so much that your air filter can remove from the air. Things like allergens, bacteria, and odors still get through the air filter and recirculate again through your home.
If you want to invest in an air purifier in Bowie, TX, you may be researching your options. Do you want to make the best choice for your home and family? The good news is, our team can help. You can keep reading to learn more about your options when it comes to an air purifier, and then give us a call for service.
UV Air Purifiers
A UV air purifier uses UV light to neutralize particles suspended in your indoor air. This means that bacteria, allergens, and even dust mites will no longer re-circulate through your home and the spread. Most of the time, UV air purifiers get installed inside of your HVAC system so that all of the air entering your home has to pass through the light. This way, you ensure that 99.9% of all the harmful particles in your air get completely neutralized. 
One great thing about a UV germicidal light air purifier is there is little to no maintenance. You do have to replace the UV light bulb annually for the best results. Most UV lights are only rated to destroy particles for around 9,000 hours total.
HEPA Filter Air Purifiers
Other air purifiers use extremely strong air filters that are designed to capture (but not destroy) even microscopic particles. However, more particles can still get through even the best HEPA air filter compared to a UV light air purifier. Just like a UV germicidal light, you have to be diligent about changing the HEPA filter on time, because if it gets clogged with dust and dirt, then it will not work as well.
Portable Air Purifiers
You can save a lot of money by stopping at your local hardware store and picking up a portable air purifier. But before you do this, you want to consider how important indoor air quality is to you. If you have a very small space, a portable air purifier may work just fine. However, because they are so small, they are usually not rated to clean the air for an entire home. You may wind up buying multiple portable units, which then take up space in your home.
Just like a whole-house air purifier, you'll have to invest in replacement UV lights and air filters around every 12 months. You should factor this into your decision and compare the prices for replacement parts when you choose an air purifier.
Contact Don's AC Service, Inc today to schedule an appointment for all of your HVAC and indoor air quality needs!