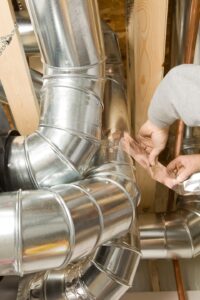 Many homeowners wonder how difficult it is to install a central air conditioner if you don't already have one. It really depends on your home layout and available space, but most of the time homes we visit can accommodate a central air conditioner.
If you have been researching central AC installation in Paradise, TX, you've reached the right place. Our team are the experts in the area and we would love to help you with your AC upgrade. You can keep reading to learn more about the requirements for installing a central air conditioner and what to expect out of your new investment.
Central AC Requirements
First, let's talk about whether or not a central air conditioner will fit in your home. After all, it comes down to the amount of available space that you can dedicate to your central air conditioner. First, you want to determine if you have a closet space that you can dedicate to the indoor portion of your unit.
In some cases, we can install the central air conditioner in your attic or basement. But you want your central air conditioner to be easy to reach so that you can complete homeowner maintenance steps each month. You also want to consider the amount of space that ductwork requires, which is often a much larger need than a small closet for an air conditioning unit.
Ductwork has to be able to reach across your entire home that connects to air vents in each room. Ductwork gets installed in your attic or basement. If you don't have an attic or basement, there is very little chance that a central air conditioner will work in your home. But, there are still other options like a ductless mini split unit that offer an upgrade from a window unit.
Maximizing Central AC
If you are able to get a central air conditioner installed, congratulations! This is an exciting investment and you will be able to enjoy increased comfort and reliability. But there are some ways that you can maximize your central air conditioner. 
One is to be careful about how you use it. You may tempted to set the thermostat super low in the summer to keep your home extra cool. However, this can add a lot of strain to your central air conditioner and increase your energy bill significantly.
Industry experts recommend you set your thermostat to 78° in the summer for cooling. This may be a little warm for your taste, in which case you can just set the thermostat a degree or two higher than you usually would. Each degree makes a difference toward lessening the strain on your AC and helping you save money on your monthly energy bills.
Maintaining Your New Unit
A central air conditioner has higher maintenance expectations than a window unit. You have to change the air filter out monthly for the best efficiency and results. Another homeowner maintenance expectation is to rinse off your outdoor unit each month with a gentle water pressure to remove dust and dirt that may be blocking airflow from escaping. Aside from homeowner maintenance, we also encourage you to schedule professional maintenance with our team once each year.
Contact Don's AC Service, Inc today to schedule an appointment for your HVAC and indoor air quality needs!